TREK OVERVIEW
Day 1 — Arusha (1,387 meters) to Miriakamba Hut (2,500 meters)

Day 2 — Miriakamba Hut (2,500 meters) to Sadle Hut (3,500 meters)

Day 3 — Sadle Hut (3,500 meters) to Summit (4,562 meters) to Sadle Hut (3,500 meters)

Day 4 — Sadle Hut (3,500 meters) to Arusha (1,387 meters)
ITINERARY
Arusha (1,387 meters) → Miriakamba Hut (2,500 meters)
Leaving from your hotel early and drive to Arusha National Park. This is the point where we enter and drive a bit farther to the Momella Gate (1,500 m), from where the climb begins. Leaving the gate and walk through game-filled grassy plains. This is where the path gets steeper and leading up to a broad ridge. As we continue, the forest thickens and you get occasional views of Mount Kilimanjaro to your right. After a few hours, you will reach the first campsite, Miriakamba Hut (2,500 m). Here you will settle into a dormitory style room, rest and enjoy dinner.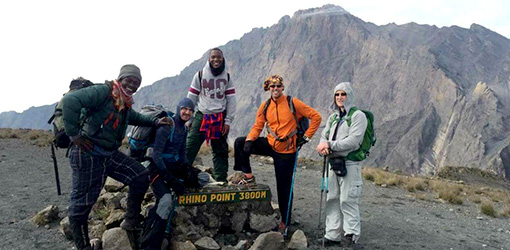 Miriakamba Hut (2,500 meters) → Sadle Hut (3,500 meters)
Wake up early to get breakfast and begin our day's trek. Here the path becomes steeper and passes through fine forests while we are heading to the Saddle Hut (3,500 m), where you will spend the evening and rest. If there is time in the afternoon, you may want to take a hour long acclimatization hike to Little Meru (3,801 m), where you have the opportunity to see beautiful views of Mt. Kilimanjaro at sunset.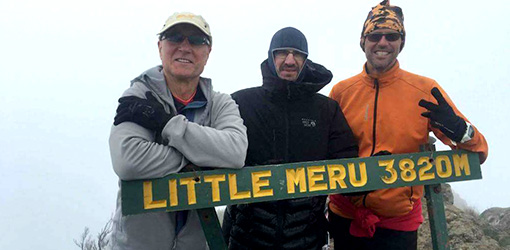 Sadle Hut (3,500 meters) → Socialist Peak (4,562 meters) → Sadle Hut (3,500 meters)
Waking up around 1:00 AM, we will have a small meal and start our ascent towards the summit. The hike begins with switchbacks until we reach Rhino Point (3,800 m). From here, the trek becomes more difficult as we encounter rocky ground, navigate narrow ridges, and climb up to the summit. We will reach the summit, Socialist Peak (4,562 m) around sunrise, where we can see the moon setting to west and the sun rising over Mt. Kilimanjaro in the east. We'll descend the same way as we came up, reaching Saddle Hut in a few hours. Here we rest and have a short meal before beginning our descent down to Miriakamba Hut for our last night on the mountain.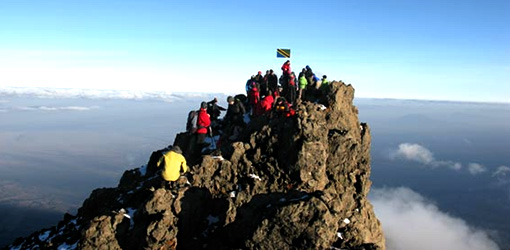 Sadle Hut (3,500 meters) → Arusha (1,387 meters)
Descend back down through grassy plains, where you have a high chance of seeing wildlife. Arrive at the park gate, happily accept your certificate of completion, and drive back to your hotel in Moshi or Arusha town where you will enjoy a well-deserved shower and congratulations.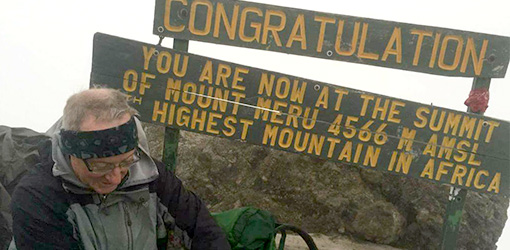 Climb Prices