Jambo Kilimanjaro
Here at Jambo Kilimanjaro, we understand what it takes to gives our climbers the best chance of reaching Kilimanjaro's summit in the best state of health and mind. With more than 15 years of experience, our veteran guides have safely guided thousands of climbers to Uhuru Peak with their peerless knowledge and familiarity with the mountain. Being a small trekking company allows us complete control of your expedition customized to your exact needs. Nothing is outsourced and nothing is delegated. From the very moment you express interest in climbing Kilimanjaro with us to the day you're back on the plane home with a Kilimanjaro summit achieved, you'll be in safe hands.
Our company motto is simple, to provide the safest and highest quality Kilimanjaro climbs while improving the lives of our staff, their families, and the communities in which they live. With Jambo Kilimanjaro you're not just climbing with a company, you're climbing with a community.
Won't you join us on the roof of Africa?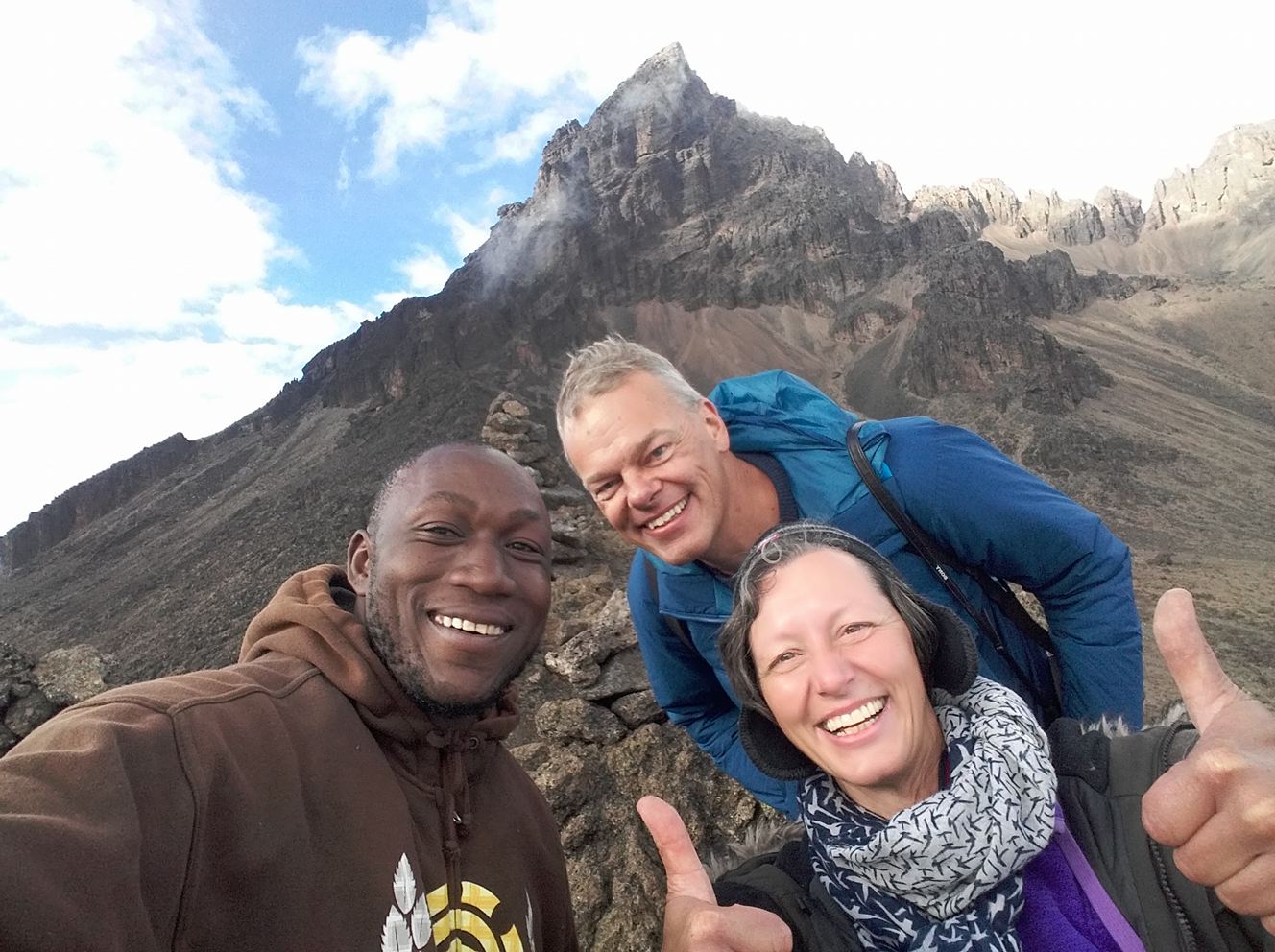 What We Offer
Best Guides
With over a decade of experience, Jambo Kilimanjaro has proven expertise on Mount Kilimanjaro. We have the best local guides who have received extensive training in first aid and mountain rescue. Our guides have over 150 years combined experience and 3,000 successful summits. Every member of our staff are ready provide you with all the ins and outs of planning and guiding your Kilimanjaro expedition.
Delicious Meals
All food and drink is provided on the mountain. Our mountain chefs prepare delicious meals with fresh, local ingredients. These meals are nutritious and calorie dense, specifically designed to sustain the energy of climbers. An ample amount of clean water is provided so climbers stay well hydrated throughout the trek. We also cater to all special dietary requirements.
Small Party Climbs
We believe that a small-party climb is the best and most enjoyable way to climb Mount Kilimanjaro as large trekking parties detract from the experience. At Jambo Kili, we strive to create the optimal conditions for a safe, successful climb. Keeping the group size small creates an intimate setting on the mountain, but more importantly ensure proper attention for each and every climber.
Best Routes
Jambo Kilimanjaro specializes on Kilimanjaro's best routes. With many routes to choose from, we avoid trails that are very crowded, less scenic, and have poor acclimatization profiles. We operate primarily on routes that offer a combination of high success rates, scenic beauty and low foot traffic. This ensures our clients have the best chance of reaching the summit comfortably.
Focus on Safety
Jambo Kilimanjaro is focused on safety, understanding that our top priority is your complete safety. Our expert guides are trained in first aid and perform regular health checks on all climbers, and they are prepared to prevent, detect, and treat altitude sickness. All our climbs include rescue oxygen and we have evacuation plans in place in case of any emergencies that might occur.
Porter Welfare
We take porter welfare very seriously and do our best to ensure our staff is treated well. As a partner company of the Kilimanjaro Porters Assistance Project (KPAP), we comply with all established guidelines on porter wages and welfare. We pay our porters more than the standard compensation. Our porters have proper food and shelter, and their loads are restricted to reasonable weight limits.
Quality Camping Gear
We only use high quality camping equipment to keep all our climbers as comfortable as possible while outdoors. Our Mountain Hardwear tents are warm, waterproof, and roomy - and perfectly suited for the rigors of Mount Kilimanjaro. We provide thick foam sleeping pads for all clients and prepare all the tents for you. High quality sleeping bags, rated to -30F/-34C, are available for rental.
Leave No Trace
We are a member of Leave No Trace, an organization dedicated to enjoying the outdoors responsibly. Our guides and porters practice Leave No Trace ethics on the mountain so that everyone can enjoy a clean, litter free environment on one of Africa's most majestic landscapes.
Higher Quality Amenities
When your goal is as lofty as Uhuru Peak, every detail matters.
Jambo Kilimanjaro is the premiere Kilimanjaro outfitter because we pay attention to all the details. A higher-quality experience every step of the way not only makes your trek more enjoyable, it gives you the best chance of summit success:
Tents are

custom-designed

to keep you warmer, drier, and help you get the rest you need.

Nutritionist-designed meals

provide optimum fuel for your trek.

Unlimited purified water keeps you hydrated (this helps reduce the effects of altitude).

Private toilet tents

are more hygienic and comfortable.

All head guides are WFR-certified, the highest standard of mountain training.

Jambo Kilimanjaro carries

more safety equipment

than any other outfitter and all guides are trained to use it.
Porters receive one of the

highest compensation packages on the mountain

; you can rest assured your trek is helping support good jobs for Tanzanians.
WFR-Certified Kilimanjaro Guides
Not all certifications are created equal. When you're scaling one of the Seven Summits, you need to trust your Kilimanjaro guide's training.
That's why Jambo Kilimanjaro goes further than other companies: all our head guides are certified by internationally-recognized Sentinel Outdoor Institute (SOI) as Wilderness First Responders. That's more than an in-house training program: it's the highest standard of guide training on Kilimanjaro.
Jambo Kilimanjaro's guides are a cut above the rest:
Fluent in English and Swahili

Each guide has 100-200+ professional summits of Kilimanjaro

Trained to use extensive emergency equipment, including Gamow bags, stretchers, AEDs, oxygen, and life-saving medications

Have led prominent groups like MTV, WaterCan, and Through the Roof

Regularly check guests for signs of altitude sickness

Trained in high-altitude evacuations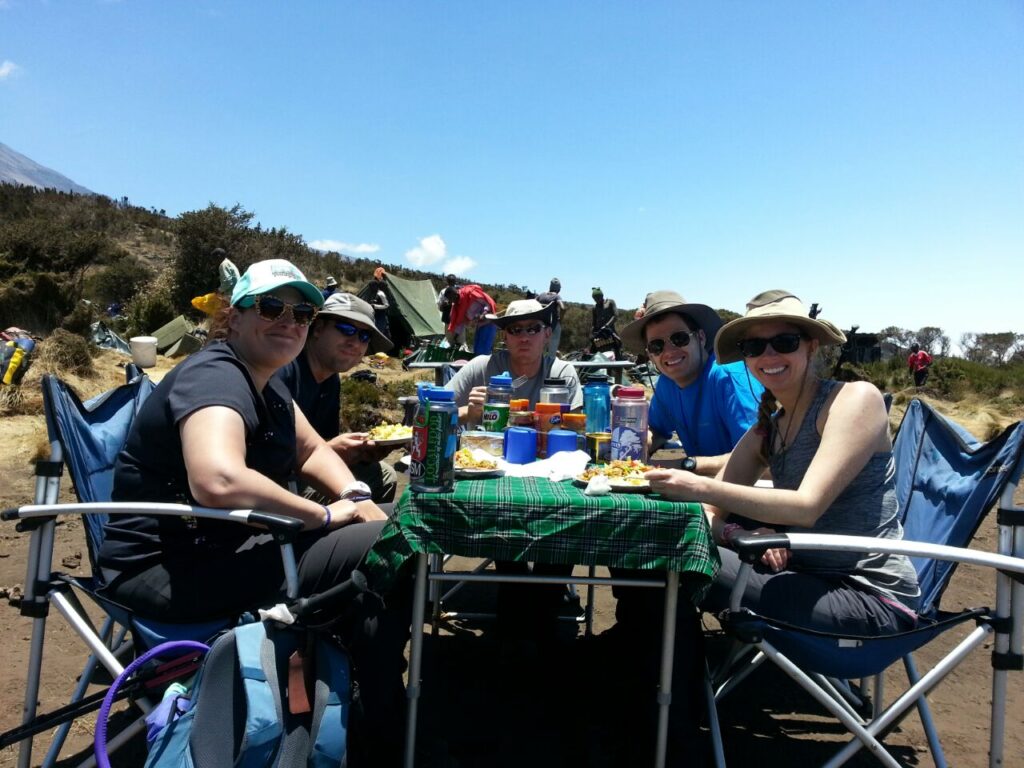 Personalized Service
As a company, we've always felt there's something special about a personal touch.
We're small and family-owned, and we've only ever focused on one destination—Tanzania—so that we could be true experts on what we're offering our guests. We show that same dedication to every one of our trekkers.
Your personal trekking expert will ensure you're on a Kilimanjaro trek that gives you the experience you want and the best chance of summit success. With Jambo Kilimanjaro, you can expect hands-on service from start to finish. We'll treat you the way you deserve to be treated: as a valued guest.
Work with a Kilimanjaro Expert Consultant from your first call through your successful summit and return.

Your consultant knows all your concerns and considerations.

Kilimanjaro experts assess your fitness levels and goals to determine the best climb for you.

Jambo Kilimanjaro takes care of all the details from determining the

best route

, to

packing

, to

training tips

.

Jambo Kilimanjaro's owners own the ground operations in Tanzania. That means you'll receive the same high level of service on Kilimanjaro.
Ethical Treatment of Porters
Porters carry the majority of guest belongings and set up and break down each campsite. They are integral to every trip we run, and we deeply respect everything they do for our guests.
Unfortunately, poor treatment of porters is an epidemic on the mountain, where they're regularly exploited by budget climbing outfits.
Jambo Kilimanjaro treats our porters better:
Jambo Kilimanjaro provides one of the highest porter compensation packages in Tanzania.

With Jambo Kilimanjaro, porters earn top wages, bonuses, comprehensive benefits, medical care, advanced training, and additional educational opportunities.

Full wages are guaranteed, even if porters must descend early.

Our porters earn bonuses for each pound of trash left by other companies that they carry off the mountain.

Porters are provided with professional-grade all-weather uniforms.

Jambo Kilimanjaro ensures every porter has a hat, gloves, proper footwear, warm layers, and mountaineering glasses.

Porters are provided with mountaineering tents and closed-cell foam sleeping pads, as well as all meals on the mountain.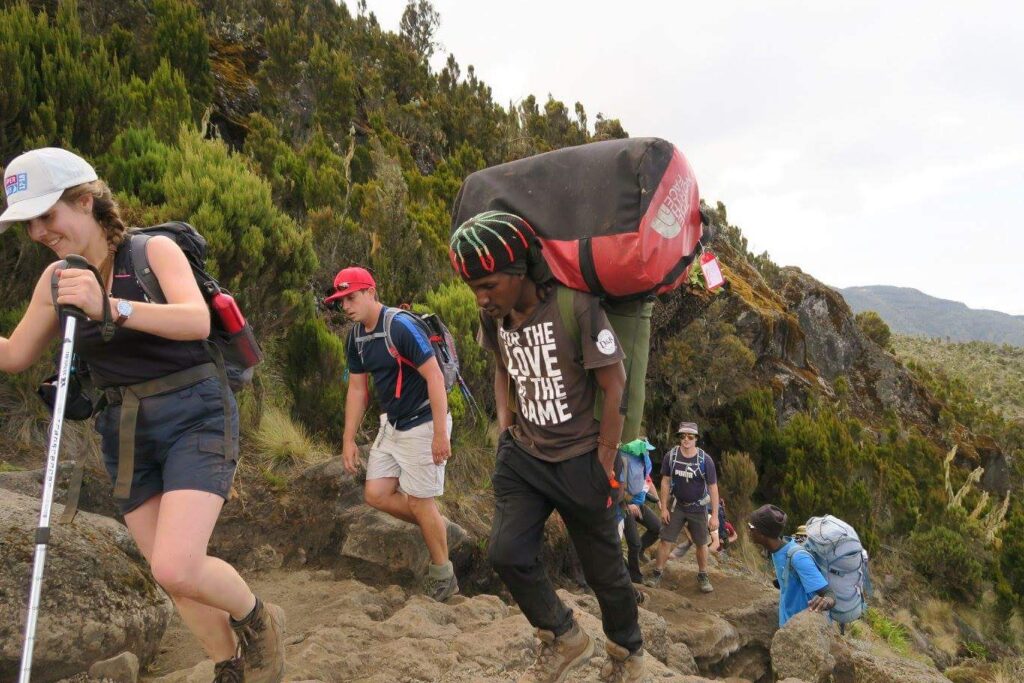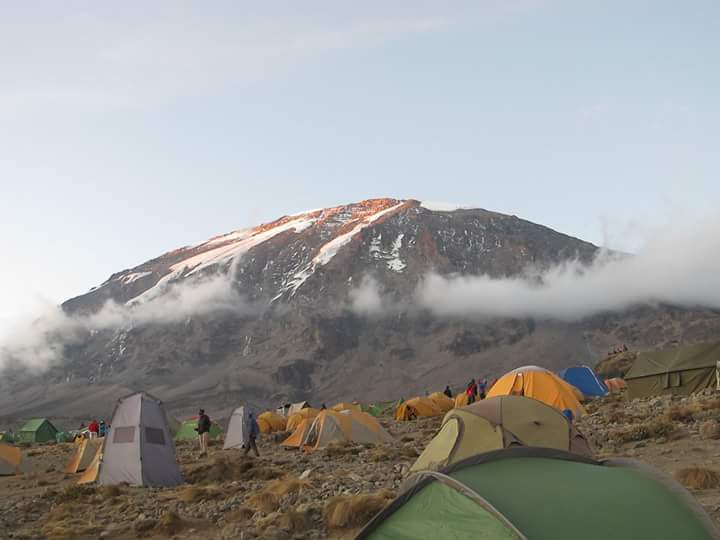 Highest Standard of Safety
SAFETY EQUIPMENT
No outfitter carries more medical and safety equipment than Jambo Kilimanjaro:
Oxygen, AED (defibrillator), Gamow Bag, pulse oximeter, mountain-equipped litter, and more accompany every trek.

Guides are certified Wilderness First Responders and trained to use all equipment.

Guides can distinguish normal side-effects of altitude from potentially dangerous symptoms.

Guides carry three types of mobile communication on Kilimanjaro.
EVACUATION PLAN
Should you need to descend for any reason, Jambo Kilimanjaro will get you down the mountain safely:
Step 1: ASSESS
Guides will determine the safest and fastest descent route.
Step 2: NOTIFY
A call to base camp ensures appropriate medical attention (if needed) and accommodations will be ready.
Step 3: DEPLOY
If necessary, guides will use Jambo Kilimanjaro's extensive medical equipment to stabilize the guest.
Step 4: DESCEND
A guide and a team of trained staff accompany the guest down the mountain.
HYGIENIC TREKS
Staying healthy on the mountain is key to summit success:
Chefs are specially trained in

hygienic food preparation

.

Fresh fruit and vegetables are washed only in purified water.

Private toilet tents

with hand sanitizer keep you healthy.

Unlimited purified water is provided every day.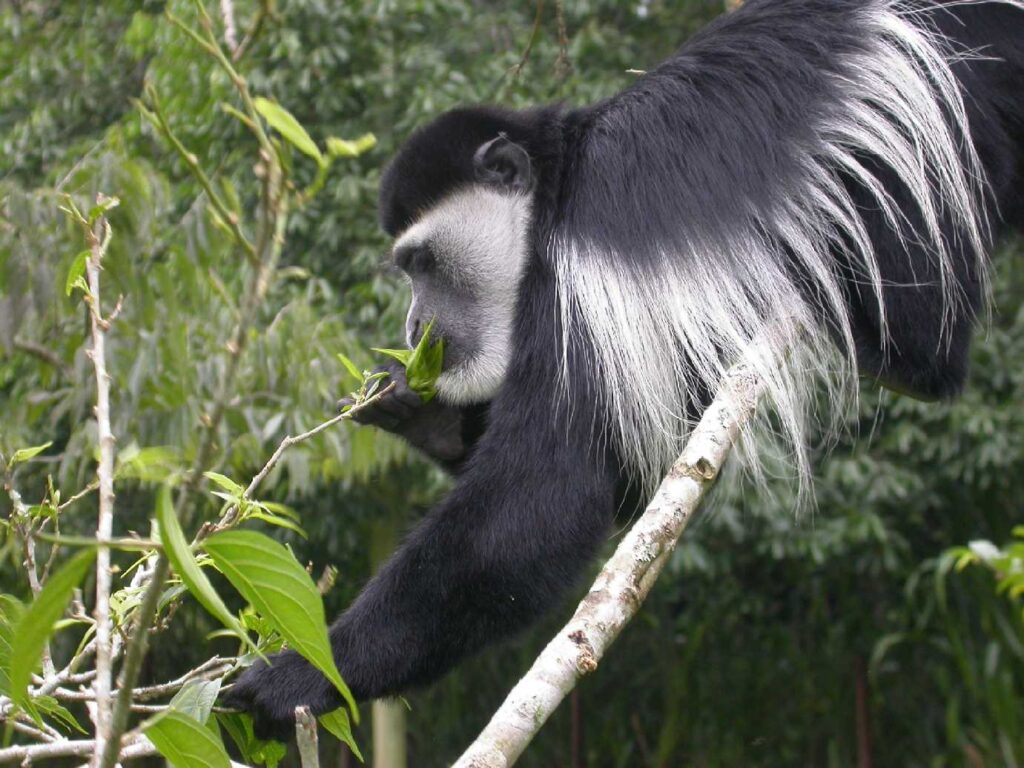 WE PROMOTE ENVIRONMENTALLY RESPONSIBLE ENJOYMENT.
With so many tourists and mountain crews on Kilimanjaro, trash is a growing problem. Many operators have staff that unfortunately are uneducated about conservation or simply do not care.
As members of Leave No Trace, a non-profit organization that promotes responsible enjoyment of the outdoors by minimizing people's impact on nature, we integrate Leave No Trace principles into our training. Our staff understands the importance of keeping our mountain clean so that all visitors can enjoy it for years to come.
WE SUPPORT ETHICAL PORTER TREATMENT.
We are committed to improving the working conditions of the porters on Kilimanjaro, and have been a leader in porter welfare since our inception. Porters make the trips happen behind the scenes, so their well being is a priority.
Our climbs are staffed with a sufficient number of porters to limit their loads to 25 kg per porter. Our porters are paid one of the highest salaries on the mountain, as much as 100% more than that of popular budget operators. They do not depend solely on tips, which can lead to begging, harassment or theft. Our porters are kept busy; they work regularly throughout the season, so they do not need to go elsewhere to make money.
Every climb departs with an ample food supply so that porters are well fed for the duration of the trip. Our porters and guides are fed 2-3 full meals per day.  Tents are examined after every trip and repair any leaks or flaws that would compromise the porters' shelter. Our porters have adequate clothing for the harsh mountain climate. Lastly, if any of our mountain crew become sick, they have access to the same medical and rescue care as our clients. We also pay for their treatment and pay them in full for their work.
Many operators on Kilimanjaro do not have adequate standards for their porters. In fact, they do not even know who their porters are. Porters have the hardest jobs on the mountain yet are the ones most commonly exploited.
Many operators simply do not care about the welfare of their porters, or worse, some intentionally engage in unfair and unethical practices when dealing with porters. Other companies may make claims of ethical treatment of porters, but do not uphold their words. There are some popular operators that overload their porters, pay their porters a very low wage, feed their porters only once per day, do not look after sick or injured porters, do not provide proper shelter or clothing, and do not offer any skills or language training. Please select your operator with porter welfare in mind.
When you climb Kilimanjaro with us, you can be confident that your guides and porters are treated well.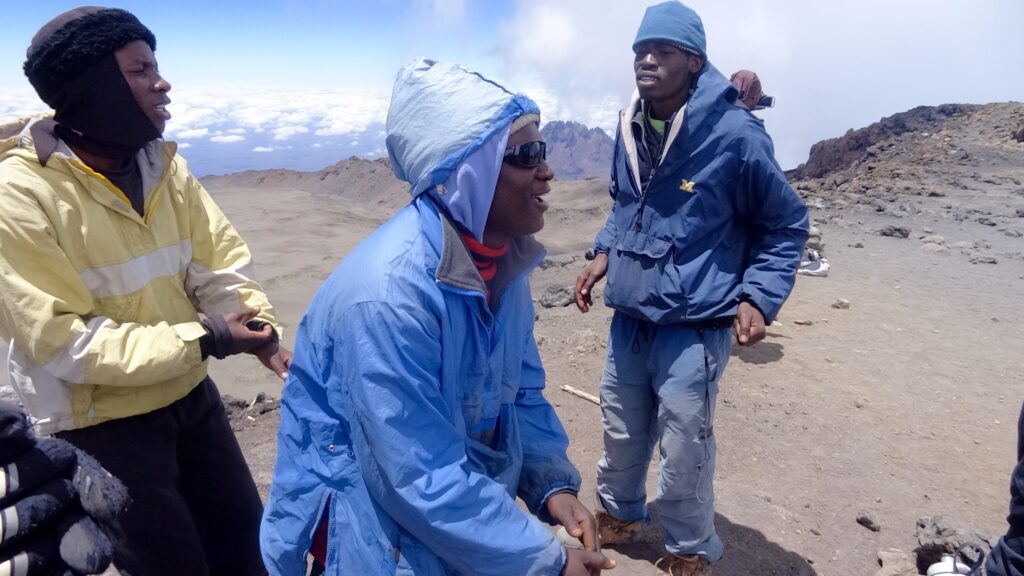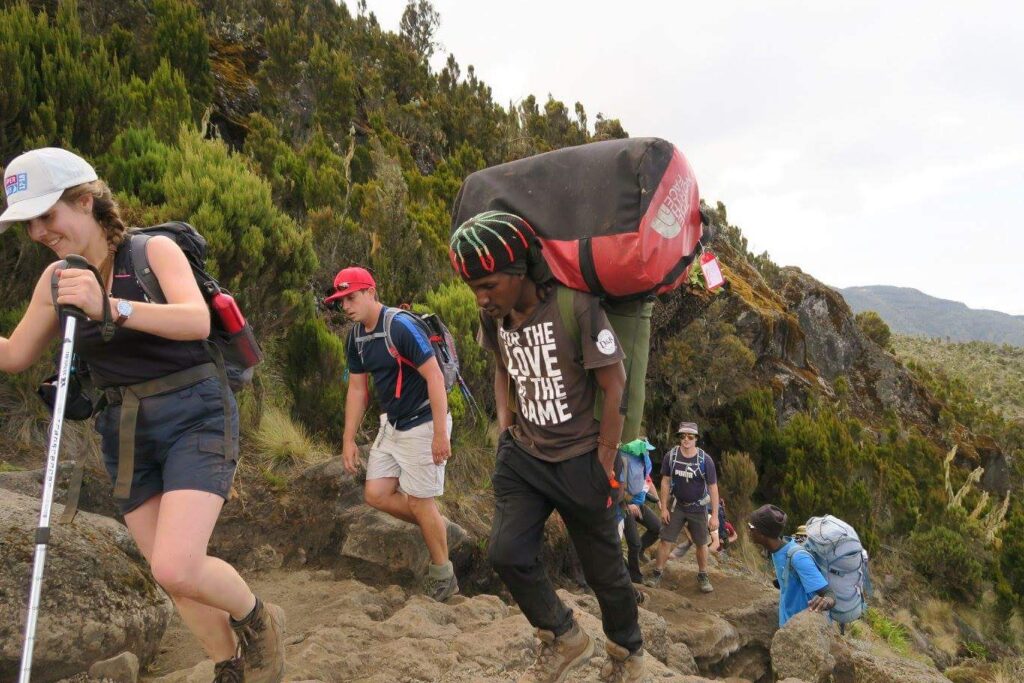 Kilimanjaro Guides & Porters
The importance of having competent, high quality guides cannot be overstated when it comes to climbing Mount Kilimanjaro. Jambo Kilimanjaro has the best local guides, all of whom are fluent in English and have received extensive training in first aid, mountain rescue, flora and fauna, and history. All of our guides are registered with Kilimanjaro National Park. It is forbidden to climb Kilimanjaro without a guide.
Our Guides
Our Kilimanjaro guides are very experienced, with most having climbed well over 100 times. They are professionals who intimately know the mountain:
5 hand selected lead guides, with unrivaled experience and competence. Our guides are among the most talented and respected professionals in the industry.
50+ years of combined experience as guides on Mount Kilimanjaro. Our guides are well prepared to handle any situation one can encounter on the mountain.
1,000+ successful summits of Mount Kilimanjaro. Our guides are very strong, capable climbers.
10,000+ clients led to the top of Mount Kilimanjaro. Our guides have proven expertise on how to lead clients safely and effectively to the top of Kilimanjaro.
You can expect the following from our Kilimanjaro guides:
High Safety Standards – Your safety is the highest priority for us. Our clients put their lives in our hands and trust us to keep them safe; we do not take that responsibility lightly. Our guides are certified Wilderness First Responders (WFR), which means they have the tools to make critical medical and evacuation decisions. They receive annual training in emergency first aid and can prevent, recognize and treat altitude-related illnesses. Additionally, they can identify and avoid potential hazards such as slippery trails and loose rocks. Each client's health is monitored very closely while on the mountain.
Professionalism – We understand that you have many choices when it comes to climbing Kilimanjaro. Therefore it is of the utmost importance that your expectations are met or exceeded. Jambo Kilimanjaro takes pride in the hard work of our staff and we strive to maintain and grow our reputation of excellence. Our guides uphold a high level of professionalism while still keeping the experience fun for the clients.
Expert Ability – Our guides have been working on Mount Kilimanjaro for a long time. With this training and experience, they are completely acclimatized to high altitude and are adapted to the rigors of mountain life. Climbing Kilimanjaro has become second nature to them. Our guides are tough as nails and can teach you everything you need to know about high altitude trekking.
Mountain Knowledge – Our guides are knowledgeable about general mountain facts. They can tell you about the climate zones, the altitudes of and distances to campsites, and information about the geology, flora and fauna. These types of facts increase the enjoyment during the trek by giving clients an idea of what they are seeing and feeling.
Our guides can effectively manage our clients due to the small size of our groups. Because each climber generally needs a few porters, each additional client multiplies the number of people under the guide's care. A guide can give more individualized attention when groups are reasonably small. We also lead longer trips, which, due to proper acclimatization, increases the probability of successful summits, which in turn gives a sense of satisfaction to the guides and staff.
There is a better team dynamic with a small group, which not only makes the days on the mountain more fun, but safer as well, when a group works well together. With a small group, our guides can effectively monitor the progress each individual climber and the collective group. Our guides have the opportunity to interact with each climber to assess how he or she is doing, and to ask and answer questions when needed. Our porters can also provide better service by catering to the varied needs of each member.
We have over 500 customers per year, which means our guides stay busy throughout the climbing season. Each of our guides climbs Kilimanjaro 10-15 times per year. Therefore, our guides do not need to go outside of their profession to earn a living when they can regularly lead climbs for us. Many guides want to work for us, but we have already our all star team in place. We appreciate that employment with Jambo Kilimanjaro is highly sought after. It is a testament that we are doing things right.
We have great clients. Honestly. Our guides tell us that our clients are the best because they come to Kilimanjaro well informed, well trained and well prepared. This means our clients are more likely to be successful on the mountain, and happy clients means happy guides. So just as our clients love our guides, our guides love our clients back.
.
Our Porters
Our guides have support teams of assistant guides, cooks and porters that we have assembled personally. We feel having control of our personnel assignments is the best way to make sure your mountain crew complies with our high standards. Through regular interaction, your mountain crew will perform at its best and offer consistent service trip after trip. We like for things to go smoothly behind the scenes so that our staff can focus on our most important asset – the client.
Because of our hardworking porters, all you need to do on your climb is walk. Porters carry the tents, sleeping bags, mattresses, food, water, cookware, gas, stoves, medical supplies, chairs, and tables – not to mention your camping gear. It is a tough job and anyone who has climbed Mount Kilimanjaro will tell you that their strength, skill and stamina are incredible.
We take porter welfare very seriously and we do our best to ensure that all our staff is treated well. We strive to have the best porters through fair and honest treatment of our staff. We ensure that:
Our staff is paid a set wage, which means they do not have to rely entirely on tips for payment.

Our staff is paid more than the standard compensation on Kilimanjaro.

Our staff is paid immediately upon completion of a trip.

Our staff is paid tips in a fair, transparent manner.

Our porters have the proper gear and equipment to handle the mountain. Their clothing, sleeping bags and tents are sufficiently warm and/or waterproof.

Our porters are fed three nutritious meals per day, in adequate amounts, of their preferred local foods.

Our porter loads are limited to 20 kgs. The porter to client ratios we utilize are sufficient to handle the equipment needed. If more porters are needed for a party, we will add more.
Our porters take care of you. So we take care of them.