Climbing Kilimanjaro is a challenging experience.
But your camp doesn't have to be. And the quality of your camp is very important: keeping your body healthy and rested is absolutely essential to summit success.
Jambo Kilimanjaro has the most comfortable Kilimanjaro camps, custom-designed to go above and beyond what other outfitters provide:
Tents come with full-tent closed-cell foam ground pads, which keep you warmer, drier, and more comfortable.

Tailored fly sheets and attached vestibules provide space for your gear.

Tents are large enough for three adults, but we never sleep more than two in a tent.

Expanded height tents with cot beds and plush mattresses are available on some routes.
Relax, unwind, & refuel for the next day's challenges.
Re-energize mind and body in a warm, solar-lit dining tent, and enjoy hearty gourmet meals every day:
Fresh, organic ingredients are resupplied throughout the entire trek.
Nutritionist-designed meals include an optimal balance of complex carbohydrates, protein, and fats.
Vegetarian, vegan, gluten-free, dairy-free, and kosher diets can be accommodated with advance notice.
Unlimited purified drinking water provided daily.
Chefs are trained in hygienic food preparation and allergy safety.
Custom dining tents and comfy chairs included on every trek.
Eco-friendly solar lighting brightens your meals.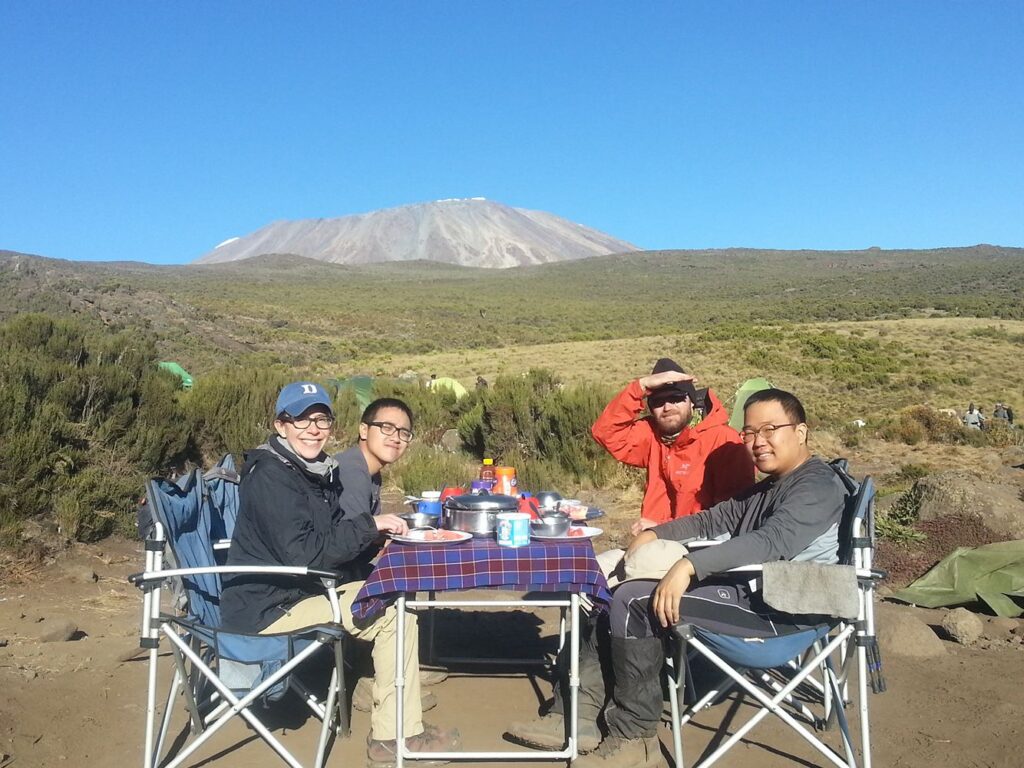 Stay healthier and happier on Kilimanjaro
It's not the most pleasant topic, but let's be clear: your bathroom situation on the mountain matters. And once you see the public outhouses thousands of other trekkers use daily, you'll realize Jambo Kilimanjaro's clean, private toilets are essential to your hygiene and health on Kilimanjaro.
Hygienic bathrooms mean less chance of illness. That allows your body to focus on acclimatization and muscle repair. Summit, here you come!
Tents provide welcome privacy.

Tents are exclusively for our trekkers.

Portable pump-flush toilets are eco-friendly and sanitary.

Hand sanitizer provided to keep you healthy.

Walk-in height tents are clean and comfortable.